5 Custom Ring Ideas for Couples
There are so many different off-the-rack jewelleries from the best designers but nothing can beat the uniqueness of a bespoke jewellery. Especially for a wedding or engagement, many couples look for customized designs which represent their love or anything about them together. But how do you find something so unique and yet beautiful for yourself? Especially for the less creative couples, finding the right bespoke engagement rings is quite tricky. From choosing the stones to determining the design to keeping everything within your budget- it can be an elaborate process. To help you out, we have shared some unique custom ring ideas for couples that you can use for creating the perfect rings for your big day.
Engraved solitaire rings
Solitaires are classic and timeless designs. But what can make them stand out in a subtle but unique way is an engraving. You can get bespoke solitaire rings which will bear miniscule etching of your favorite quotes for each other. To the naked eye they may look like any other ordinary ring but a closer look will reveal their meanings beautifully. For couples who are very private and like to stay subtle about their relationship, this is the perfect design for bespoke engagement rings in London.
Multi-colors stones
For a trend-setting couple, something over-the-top can be the perfect way to represent their personality. A cluster of multicolored precious and semi-precious stones is the perfect design for an engagement ring. You can have a very spontaneous and random design or a very geometric shape created with the many colored stones. Especially for gay or lesbian couples, such a design can symbolize the "pride" of their relationship.
Bezel setting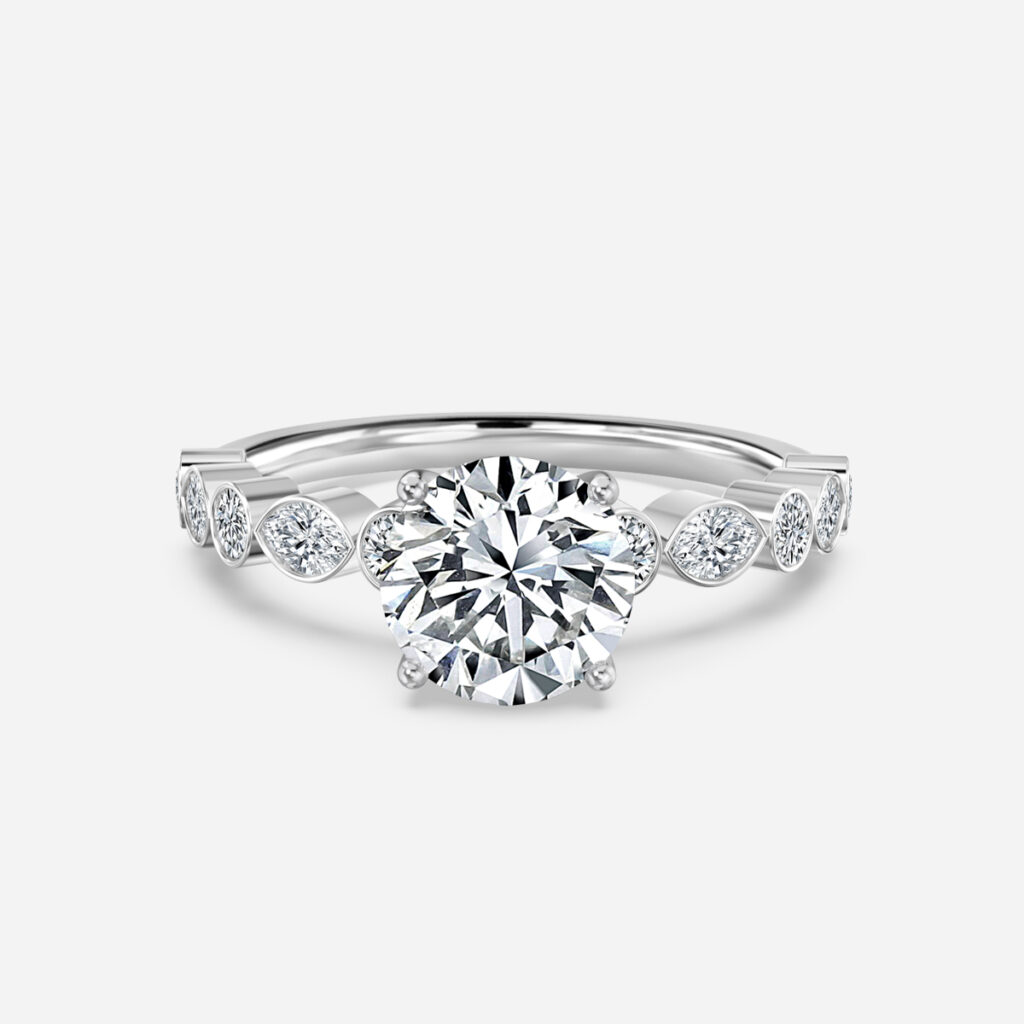 In the bezel setting design, the diamond or the central stone is completely surrounded by smaller stones creating a bezel around it. You can create a bespoke ring with this design as an inspiration. There can be many variations of the bezel setting. The shape of the central stone determines these designs. Such design has a versatility to create either a modern or a vintage look. Since there is so many ways of playing around with the design, you can create many different looks with it. Some jewellers give you the option to customize the ring in such a way that you can change the bezel or the central stone at will and create an entirely new design out of the same ring.
Trilogy ring
This is another classic design for engagement rings and can be used for custom ring ideas for couples. You can easily customize it by choosing different colored stones or a combination of pearl and stones. The choices are infinite. The trilogy engagement rings in Hatton Garden are available for customization. You can even show a specific ring as an inspiration and get a similar design made as per your vision. Once you share the idea with the jeweller, they can easily make a rough sketch out of it and based on that create the ring for you.
Engraved bands
These are minimalist but truly unique. There is no flourish of precious gems but the ring has enough space to engrave writings or symbols close to your heart. You can even get them studded with small stones or get them designed with a blend of two-colored metals. The engraved bands have a lot of sentimental value for the wearer and such bespoke rings take a lot of time, effort and thoughts behind their creation. The best part about them is their universal and unisex charm as they look good on men and women.
Getting a bespoke ring is a long-term commitment as a lot of thought, creativity and effort goes into them. But they are worth the effort as they are only for someone equally special in your life.